Best Lakeland Realtor | DRJ Real Estate
Ready to Buy a House? This Lakeland Realtor Recommends You Do This FIRST Before You Start Looking!
The decision to buy a home is very exciting. There are so many possibilities, areas to look at, and features to decide on. In today's internet connected world it is really quick and simple to start "house hunting" online. Sites like Zillow and Redfin have made it so convenient for potential buyers to search for their dream house and start picking out houses they would love to have.
While that is a really fun way to get started, your favorite Lakeland Realtor recommends you start with something else first. While it may not be nearly as fun to do, we promise you, it is the most important thing you can do. Additionally, doing this first will help you focus your house search and make sure you are ready when it is time to make an offer!
Home Buying Tip: Get Your Pre-Approval First
Unless you are planning on making a cash only offer, the first step you should take when you decide you are ready to buy a home is to get pre-approval. Pre-approval is the simple process of meeting with mortgage companies to see exactly how much house you can afford.
The lender will want to look at your verified finances, as well as your credit score, so they can put together a realistic offer for you on how much you can borrow. From there, you can shop lenders and banks for the best offer and rates.
Benefits of Getting Pre-Approval Before You Start a Home Search
1. YOU WILL KNOW WHAT YOU CAN AFFORD
It seems silly, but what you "think" you can afford, and what you can actually get approval for, can be two very different numbers. With pre-approval, you will know exactly what price range to start looking at, which is really the most important way to narrow down your search.
A pre-approval from a bank, or lender, will provide you very important estimates on things like:
loan amount
terms
interest rates/points
mortgage payment amount
closing costs and fees
estimated property taxes
estimated mortgage insurance
This information will help you put together a realistic budget, and allow you to plan out exactly how much cash you will need to have available beyond the down payment. Often times the "mortgage estimate" tools you find on Zillow don't take into account things like mortgage insurance or taxes, and you end up underestimating what a house will really cost you. Buying a home isn't always about maxing out what you can get approved for, but is also about finding a home that works with your budget, so that you can live comfortably.
Additionally, many people don't realize that there are other upfront "cash" costs to buying a house besides the down payment. You don't want to find out too late that money you set aside to furnish your new home has to go to closing costs instead.
2. YOU WILL SAVE TIME
With a pre-approval in hand, you will actually save yourself a lot of time. This applies in a couple of ways. For starters, you won't waste your time, or your Realtor's time, previewing homes that you ultimately can't afford. You can narrow your search to just homes that fall within your budget (or could fall within your budget with the right offer).
This is also important to do first, because there are few things more disheartening than falling in love with a certain home or neighborhood, only to find out afterwards that it is out of your budget. It makes everything else you look at seem subpar, and that can be really difficult for some buyers to deal with. Don't set yourself up for unrealistic expectations! Instead, go into the home buying process informed and prepared!
Saving time will also help you when it comes time to make an offer, which leads us to our next benefit…
3. YOUR OFFERS WILL BE STRONGER
Once you do find that perfect home, you have to be ready to pounce! In a busy "seller's" market, you must be ready to present a strong, well prepared offer as soon as you decide you want the home. One of the best ways to make your offer stan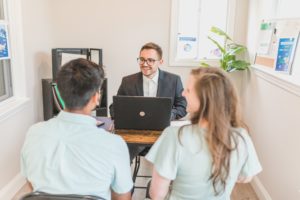 d out from the crowd is to include your pre-approval letter as the very first page of your offer! This let's the seller know that you are serious about the house, you have already done your homework, and that there won't be any last second financing issues when it comes time to close.
Even offers that might come in higher than yours won't look as good without pre-approval behind it. Especially when you consider that the pre-approval process can take 3 or more days! What seller wants to wait 3+ days to see if that "nice" offer is even legitimate? Like they say, "a bird in the hand is worth two in the bush". An offer with pre-approval is putting that bird in hand.
Be an Informed Buyer!
The best way to help yourself as a real estate "buyer" is to be informed! Work with a professional who can guide you through home buying, and take time to educate yourself. DRJ Real Estate is Polk County Florida's premier real estate brokerage because we care about helping people with their real estate needs. As a buyer, you can leverage all of our experience and professional networks to help you get the best mortgage rates, make strong and complete offers, negotiate terms and discounts, and secure the house of your dreams!
Want to learn our best kept Home Buying Secrets? Check out our Buyer's Class at DRJ University!!
If you are looking to move into the beautiful Polk County Florida area, then CONTACT DRJ REAL ESTATE right now to put us to work for you! We are Polk County's premier, full service real estate team that specializes in Polk County and Lakeland real estate. 
Are you a Hero?? Ask us how we can help save you thousands of dollars as a Buyer or Seller! Savings if you are a Firefighter, LEO, Medical Professional, Teacher, Military or Veteran, or Clergy! We are a proud affiliate of Homes for Heroes.
**Like and Follow us on Facebook to keep up to date with new listings and real estate tips**