Best Polk County Realtor | DRJ Real Estate Home Staging
Home Staging Helps Your Listing Stand Out in a Crowd!
According to the 2021 National Association of Realtors "Profile of Home Staging" report, "Eighty-two percent of buyers' agents said staging made it easier for a buyer to visualize the property as a future home." Of course, helping potential buyers visualizing a property as their future home is the first step in successfully selling your listing.
What is Home Staging?
If you are not familiar with the idea of "home staging", it is simply the process of preparing a listing for a buyer. More specifically, it includes doing a deep cleaning, and then adding some very clean and neutral decorating/re-decorating in order to make a home look its best. If your house is still occupied, then this means removing clutter and personal décor, leaving out only the essentials. If your house is vacant, then this means adding some basic décor and furniture to bring out a homes potential.
The goal for either is to make the house look like "home", without making it look "lived in".
Do I Really Need to Stage My Home Though?
In the past, home staging was typically reserved for high end listings. However, in today's "internet first" buying experience, every home can benefit from staging. With the proliferation of online listing services, such as Zillow and Redfin, buyers can preview homes from their computer, looking at photos and virtual tours.
Of course, with the COVID-19 pandemic, this has increased even more. As such, a buyer can "preview" many homes online before they even talk to a Realtor. Because of this, it is imperative that your home looks as good online as it does in person. It is no longer just about "curb appeal", it is about "internet appeal". This means that if your home is not staged and presented properly online, potential buyers may eliminate your listing before they even see it in person.
While this may seem counter intuitive, the fact is that a "staged" property is easier to imagine as a potential home to a buyer than a blank and empty property is. Below is an example of the same house showing the difference that staging can make. In fact, this house sat vacant for months, unstaged, but quickly sold after finally being staged.
DRJ University Offers Online Courses on Staging Your Home and Maximizing Profits!
Does Home Staging Increase My Home's Value?
One of the most important jobs as a Listing Agent is determining the best list price for your home. However, a list price is not the same thing as your home's "value". Ultimately, your home is worth what someone will pay for it, along with what it will appraise for. According the the NAR,
Buyers' agents identified that
staging would positively impact the home value.
It is really hard to collect date on the financial impact of staging. This is simply because a home can't both be staged and unstaged at the same time. Meaning, you can never have a direct "apples to apples" comparison on how staging effected a homes value or time listed. You can only make a comparison between similar homes.
That being said, it is safe to say that staging has many benefits which ultimately point towards financial benefit. For example, the general subjective feeling amongst real estate professional is that staging makes your listing more appealing. A more appealing listing will attract more potential buyers. More interest in a listing may generate more offers. More offers generally leads to higher offers. Consider as well that if you attract more potential buyers, it is likely that you will sell your listing faster. Having a short "market" time can have a huge financial impact on a seller.
According to the NAR report, NO Realtors reported that staging had a negative impact on a home's dollar value. Instead, most Realtors saw an increase in the value of offers ranging between 1% all the way up to 20%!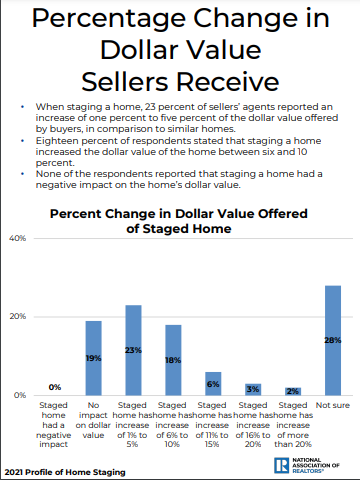 How Do I Stage My Home?
If you are looking to sell your home for the highest amount, staging is a great first step. DRJ Real Estate recommends that you discuss this with your agent, so that together you can agree on the best approach. Staging a home does not have to cost a lot, and it may be as simple as boxing up "non-essentials".
Alternatively, there are professional staging companies out there that can bring in furniture and decoration to a vacant home. These companies provide a very polished and professional staging, as they are often staffed by interior decorators. These services vary in cost, and can run from a couple thousand dollars, to high 5-figure amounts, depending on the property. Below is a beautiful "before/after" example from a professional staging company:
These don't even look the same house!! Now, which one do you think you would be more interested in as a buyer??
If you want to learn more about staging, DRJ University offers an online course on staging and maximizing profit in your listing! You can find that information right HERE.
If you are looking to move into the beautiful Polk County Florida area, or you are looking to sell your house, then CONTACT DRJ REAL ESTATE right now to put us to work for you! We are Polk County's premier, full service real estate team that specializes in Polk County and Lakeland real estate. 
Are you a Hero?? Ask us how we can help save you thousands of dollars as a Buyer or Seller! Savings if you are a Firefighter, LEO, Medical Professional, Teacher, Military or Veteran, or Clergy! We are a proud affiliate of Homes for Heroes.
**Like and Follow us on Facebook to keep up to date with new listings and real estate tips**