New Housing Developments | Best Polk County Realtor
There Are A Lot of Benefits When You Buy From a New Housing Developments in Polk County
The Polk County real estate market is one of the hottest in the country right now. That means that prices are going up, and the buyer's market is very competitive. That can make it really frustrating as a buyer. Seller's are often times receiving multiple offers, with some that even go above the listed price! On top of that, when you buy re-sale, there is a costly inspection process. Buyer's often times have to hold their breath during this time to find out what might be wrong with the house.
One of the great things about living in Polk County, Florida, is that there is also a lot of new home developments being built. This is exciting not just for our community, but also for buyers. There are many benefits to buying a new home.
Here are the top-3 reasons you should buy from new housing developments:
1. EVERYTHING IS NEW!
This may seem obvious, but it absolutely deserves the number 1 spot! A new build home is fantastic because it is move in ready, totally clean, and you know that everything is in perfect working condition. When buying resale, you have to worry about things like the roof (yes, even with an inspection), dry rot or previous leak issues, plumbing problems or repairs, and just general wear-and-tear on everything from fixtures to appliances. A new home provides a peace of mind that resale homes just can't.
On top of the great look and feel of having new everything, you have to consider how much this may potentially save you from a financial perspective. Sure, you might get a "good deal" on a resale, but find yourself having to dump money into it year after year, replacing floors, carpet, water heaters, and the such. Even if your new home costs a little more upfront, you can likely end up saving a ton of money not having to fix it up.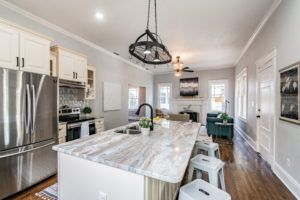 Even if that resale home is a great price, you might have to replace the carpet and the padding and repaint the interior at the very least. That doesn't even include repair items that you may discover once you start settling into your home.
Meanwhile, with a new build, everything is fresh. Additionally, depending on when you buy, you may have design options that allow you to customize everything from the floor type, countertops, and tiles, so that you can really feel like you made this house your very own.
2. EVERYTHING IS MODERN
Along the lines of "new", your new home build is also completely modern. In today's market, that means things like the popular open floor plan, for example. Modern design that matches today's style preferences is not only attractive, but is also built with modern materials and techniques. That can mean things like having high efficiency lighting, high efficiency appliances, low energy HVAC, and high durability, high quality siding, paint, floors and more.
So, not only can you save money by not having to worry about repairs on your new home, you will also save money on energy costs by having modern, low energy appliances and materials. For example, a modern energy efficient HVAC system can save you 40% on your cooling costs over an older style system.
3. A NEW COMMUNITY
An often overlooked, but great benefit of buying from a new development, is that these are commonly "master planned" communities. This means that the development, as a whole, has been designed with the residences in mind. They often include things like community pools, clubhouses, and fitness centers. Additionally, this may include walking and bike trails throughout the community, golf courses, tennis courts, playgrounds, and more.
These types of perks help you feel like you truly are part of a special community. Additionally, they can create great social opportunities, and provide activities to keep you busy.
4. BONUS REASON: BUYER'S INCENTIVES
In a competitive and busy real estate market like we have here in Polk County, the buyer is often at a disadvantage. Seller's are often receiving competing offers, which can easily turn into a bidding war. This can drive the final offer price well above the original list price. On top of that, it can be nerve racking to submit your offer. You have to sit there and wait for a response, wondering. If you are lucky enough to have your offer accepted, you have the stress of going through even more. There is the appraisal and inspection process. These things cost money, and can also completely derail your purchase!
If it sounds a little rough, that is because it is! The resale real estate market is not for the weak of heart.
Now, compare that to buying from new housing developments. First off, you are not competing with anyone. The prices are listed and they are clear. There may be price differences depending on the lot you choose, and the elevation (style) you want, but there is no bidding war for the house you want. Now here is the best part: many new home developers are actually offering significant buyer incentives to get you into their development! This might be cash back at closing, appliances, and design upgrades.
If you want to learn more about new housing developments in Polk County, Florida, CONTACT DRJ REAL ESTATE today! Our team works closely with the top developers in the area.  We can help you understand builder timelines, incentive packages, and design options. Our team is happy to give you all the information you need. Additionally, we can show you the top developers and model homes! CALL TODAY TO SCHEDULE YOUR APPOINTMENT.
Don't forget to ask us about Homes for Heroes benefits if you are in fire service, law enforcement, health care, education, or military! Homes for Heroes provides Hero Rewards in the form of cash and discounts just for being a community hero. We also offer online seller's and buyer's courses to help you learn all the best home selling tips and buyer's secrets.
If you are looking to move into the beautiful Polk County Florida area, or you are looking to sell your house, then CONTACT DRJ REAL ESTATE right now to put us to work for you! We are Polk County's premier, full service real estate team that specializes in Polk County and Lakeland real estate. 
We are a proud affiliate of Homes for Heroes.
Are you a Hero?? Ask us how we can help save you thousands of dollars as a Buyer or Seller! Collect Your Hero Reward if you are a Firefighter, LEO, Medical Professional, Teacher, Military or Veteran, or Clergy! 
**Like and Follow us on Facebook to keep up to date with new listings and real estate tips**

New Housing Developments | Best Polk County Realtor