Best Places to Live in Florida | Home Buying Florida
Here Are Some Fun Facts About Lakeland That Make it One of Florida's Best Places to Live
Florida was one of the most popular states to move to in 2022, and for many great reasons! One of Florida's hidden gems is the small town of Lakeland. Located in Polk County, Florida, Lakeland is tucked between the well known cities of Tampa and Orlando. Known for its beautiful lakes, charming downtown, and rich history, Lakeland has plenty of fun facts worth exploring. In this blog post, we will delve into some intriguing tidbits about this captivating city.
1. The City of Lakes
As the name suggests, Lakeland is home to an impressive number of lakes – a total of 38! These picturesque bodies of water not only add to the city's natural beauty but also offer a variety of recreational activities such as boating, fishing, and water skiing. Lake Hollingsworth, Lake Mirror, and Lake Morton are among the most popular ones.
2. Historic Architecture
Lakeland boasts a remarkable collection of historic buildings, many of which are listed on the National Register of Historic Places. The Florida Southern College campus, designed by renowned architect Frank Lloyd Wright, features the largest single-site collection of his structures in the world. The iconic Annie Pfeiffer Chapel and the Usonian House are must-see architectural marvels.
3. Sun 'n Fun Aerospace Expo
Every year, Lakeland hosts the Sun 'n Fun Aerospace Expo, one of the largest aviation events in the world. This week-long celebration of flight brings together aviation enthusiasts, pilots, and industry professionals from around the globe. Visitors can witness breathtaking airshows, explore static displays, and even take flight in a variety of aircraft.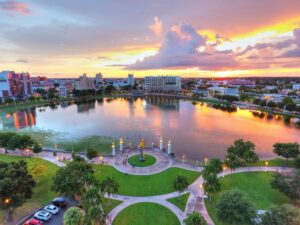 4. Polk Museum of Art
Art lovers will be delighted to know that Lakeland is home to the Polk Museum of Art. This renowned cultural institution showcases a diverse collection of artworks, including pieces from internationally recognized artists. With rotating exhibitions and educational programs, the museum offers a vibrant art experience for visitors of all ages.
5. Detroit Tigers Spring Training
Lakeland has been the spring training home of the Detroit Tigers since 1934. Baseball fans can catch exciting preseason games at Joker Marchant Stadium, which is known for its intimate atmosphere and great views from every seat. The stadium also hosts various community events and concerts throughout the year.
6. Hollis Garden
Nestled along the shores of Lake Mirror, Hollis Garden is a beautiful botanical garden that features a vast array of colorful flowers, ornamental shrubs, and cascading fountains. With its meticulously manicured landscapes and serene ambiance, it is the perfect place to relax, take a leisurely stroll, or have a picnic.
7. Swan City
Lakeland is often referred to as the "Swan City" due to its large population of graceful swans. These elegant creatures can be found on many of the city's lakes, adding a touch of enchantment to the surroundings. The annual Swan Roundup, where the swans are gathered for health checks, is a unique event that draws visitors from near and far.
Come See One of the Best Places to Live in Florida for Yourself!
These are just a few of the many fun facts that make Lakeland, Florida an exceptional place to visit or call home. In addition to these great attractions, Lakeland also features some of the best values in real estate in Florida! Lakeland has a median home price of only $353,429, which is about $30,000 less than the national average, and features great opportunities for both resale homes and new construction homes. Additionally, there is a growing job market in desirable industries including healthcare, tech, and transportation. Lakeland was also named to the US News & World Report's Top-15 Places to Retire!
Whether you're exploring its scenic lakes, admiring its historic architecture, or immersing yourself in its vibrant arts and culture scene, Lakeland offers something for everyone. One visit and you will understand why many consider Lakeland to be one of the best places to live in Florida. DRJ Real Estate has proudly served the Lakeland community for over 20 years. When it comes to buying or selling a home in Lakeland, Florida, DRJ Real Estate is the professional team that you want to work with! Come and discover the charm of this remarkable city for yourself!
We also offer online seller's and buyer's courses to help you learn all the best home selling tips and buyer's secrets. CHECK THEM OUT!!
If you are looking to move into the beautiful Polk County Florida area, or you are looking to sell your house, then CONTACT DRJ REAL ESTATE right now to put us to work for you! We are Polk County's premier, full service real estate team that specializes in Polk County and Lakeland real estate. 
We are a proud affiliate of Homes for Heroes.
Are you a Hero?? Ask us how we can help save you thousands of dollars as a Buyer or Seller! Collect Your Hero Reward if you are a Firefighter, LEO, Medical Professional, Teacher, Military or Veteran, or Clergy! 
**Like and Follow us on Facebook to keep up to date with new listings and real estate tips**
Best Places to Live in Florida | Home Buying Florida