How to Buy a Home in Polk County | DRJ Real Estate Tips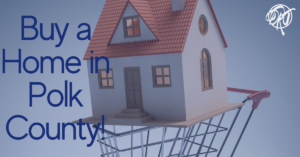 There are some advantages to being a Buyer right now!
Are you looking to buy a home in Polk County Florida? If so, now is a great time to take the plunge – housing prices have stabilized and homes are actually selling for less than their list price! Whether you're an experienced realtor helping someone find their dream home or considering making the move yourself, this post will provide valuable insight into why right now is such an opportune moment to invest. It's time to do some house-hunting and make your move toward homeownership in beautiful Polk County, Florida.
The real estate market in Polk County Florida
Now is the perfect time to buy a home in Polk County Florida! With affordable homes, great schools, and a great location, buying a home in this area of the Sunshine State has never been easier. Houses are actually selling for less than their list price, so potential buyers should act fast and take advantage of these excellent deals.
In addition to great schools, affordability, and a great central Florida location, Polk County also has a growing job market. This makes it very appealing for people looking to relocate. Not to mention, Florida does not have any state taxes. Whether you are looking for an investment property or your dream house, there is something for everyone in Polk County Florida. So don't hesitate – take advantage of these amazing housing opportunities today!
After rocketship increases, home values are stabilizing
The last few years saw Polk County real estate experience some of the highest appreciation rates in the country. This led to a very competitive Seller's market that made home buying very challenging. Prospective homebuyers in Polk County, FL, can breathe a sigh of relief knowing that the median home price has stabilized. This makes it a great win-win situation for buyers and sellers. Sellers are still able to cash out on their home appreciation, and buyers can take advantage of relatively affordable housing that still has room to grow.
In fact, many homes listed right now in Polk County are actually selling for below list price! Gone are the days of having to overbid on a house; now, homeowners can purchase their dream place without breaking the bank. With these new offerings come better opportunities to find your perfect fit at an unbeatable value. It's time to get moving – the perfect house awaits!
How to get the best deal on Polk County real estate
In order to get the best deal on Polk County real estate, you should work with a licensed real estate agent. DRJ Real Estate brings experience and market knowledge in order to help you find the best house. To start with, it's important to be pre-qualified for a mortgage before you even start looking. We have a network of professional lender's and can help you navigate this process. Additionally, DRJ Real Estate can help you find ways to save. For example, as an official Homes for Heroes affiliate, DRJ Real Estate gets discounts and cash back for heroes working in the military, law enforcement, fire service, education, and first responder/healthcare industries. That way, once you find the property of your dreams, you can make an offer with confidence. Additionally, your DRJ Real Estate agent will help negotiate the purchase and extra costs that can end up saving you thousands of dollars. With these tips, the best deal on a new home could be yours!
DRJ Real Estate is FREE for buyers
When it comes to finding your perfect home in Polk County Florida, it pays to have a knowledgeable local real estate agent or team on your side. Not only are they up-to-date on the latest market trends, but they also understand the complexities of real estate law and contracts that are specific to the area. Working with a trusted local resource will give you peace of mind that you've made the best decision. Plus, they may be able to provide additional assistance in exploring financial options and uncovering exclusive properties that haven't yet been listed publicly.
Ultimately, having an experienced professional in your corner is invaluable when taking advantage of Polk County's current housing situation. The best part? Having DRJ Real Estate represent you in your home purchase is COMPLETELY FREE! That applies whether you are buying at a new development or a resale home.
Contact DRJ Real Estate for a FREE Buyer's Consultation
Now is a great time to buy a home in Polk County Florida as prices have stabilized and homes are selling for less than their list price. The team at DRJ Real Estate can help you secure the best deal by providing local expertise and knowledge of the area. Whether you are a first-time buyer or an experienced investor, there are plenty of options available to fit your specific needs.
In addition to offering tips on how to get the best deal, DRJ Real Estate will prepare you for all the costs associated with finding and purchasing your dream home. They'll provide a detailed breakdown of closing costs and other necessary fees so you can make informed decisions every step of the way. With their years of experience and dedication to delivering winning results, DRJ Real Estate makes it easy to find the perfect home in Polk County. So don't delay any longer – CONTACT DRJ REAL ESTATE TODAY!
We also offer online seller's and buyer's courses to help you learn all the best home selling tips and buyer's secrets. CHECK THEM OUT!!
If you are looking to move into the beautiful Polk County Florida area, or you are looking to sell your house, then CONTACT DRJ REAL ESTATE right now to put us to work for you! We are Polk County's premier, full service real estate team that specializes in Polk County and Lakeland real estate. 
We are a proud affiliate of Homes for Heroes.
Are you a Hero?? Ask us how we can help save you thousands of dollars as a Buyer or Seller! Collect Your Hero Reward if you are a Firefighter, LEO, Medical Professional, Teacher, Military or Veteran, or Clergy! 
**Like and Follow us on Facebook to keep up to date with new listings and real estate tips**
How to Buy a Home in Polk County | DRJ Real Estate Tips