Florida Housing Market Trends | Best Lakeland Realtor

Are Home Prices Going Up or Down? Here's What the Experts Think
With inflation, high mortgage rates and record-high home prices on the rise it's becoming more difficult for Americans to own their homes. A typical monthly mortgage payment is 76% higher today than in June 2019, according to Zillow, which calculates an increase of $616 dollars over just one year! This means that while earnings have grown 5%, they still fall behind inflation rates of 8.5%. Signs indicate that the housing market is cooling dramatically as seen through ATTOM Data Solutions' Rick Sharga who says, "the data doesn't lie."
After a run of record breaking housing appreciation, the housing market is moving towards more balance, with inventory levels rising and prices decreasing. As a result of this shift in supply-demand dynamics for homes on the market-and because Fitch Ratings estimates that 89% of major metropolitan areas' home values are overvalued according their report published last quarter-there may be further adjustments coming soon from sellers who have had enough waiting around.
According to a August housing report by Forbes,
"While housing has been the star of the U.S. economy the last few years, there are signs of wear—namely, rising interest rates making it harder for buyers to access affordable housing. The amount of existing-home sales dropped 5.9% from June to July, marking the sixth consecutive month of declining sales, according to the National Association of Realtors (NAR). The median sales price declined slightly to $403,800—but that's still nearly 11% higher than a year ago."
The adjustment that most sellers are making, typically at the recommendation of their Realtor, is to their listing price. Prudent sellers are listing their houses at more conservative prices than previously. This often means a price slightly lower than more recent comparables, as opposed to driving the price up, which has been the norm for the last couple of years. So, what does this mean overall? According to a Realtor.com report,
"The housing market is continuing to move toward more balance," the report said. "Inventory levels continue to rise, providing more options to homebuyers who are still actively looking for a new home and price reductions are also increasing, as sellers adjust to the new normal."
Polk County is Florida's Hidden Gem
Polk County real estate has seen wonderful appreciation over the last several years. However, the local market is also correcting itself. As indicated by data from Rocket Homes, most homes are selling for less than the list price. This indicates that while it may still be considered a seller's market, the buyer's finally have some leverage.
Zillow ranks Tampa, Florida as the top real estate market in 2022. Overall housing prices have witnessed some of the most dramatic increases with Miami and Tampa at their forefront – due to a variety of variables including an active employment market for people who want homes here too! Most experts predict that the Florida housing market will remain steady overall for the next 5 years. So, while housing prices might dip slightly in the present and near future, the expectation is overall growth.
Our area of Polk County, Florida, has seen tremendous appreciation over the last couple of years. This has been a nice benefit to seller's during this time, who were able to cash out large sums of equity. However, what makes Polk County so special is that our housing market is still affordable, relative to other nearby areas as well as compared to national averages.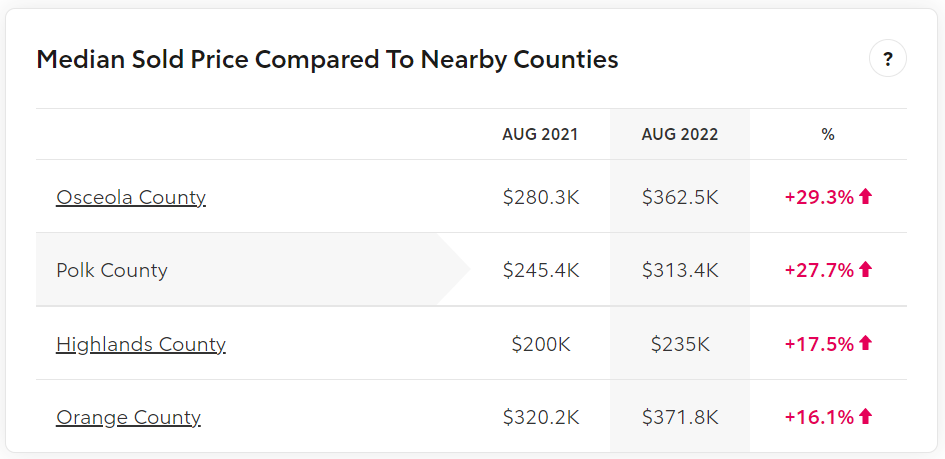 What this means is that both sellers and buyers can win in real estate in Polk County, Florida!
Interested in Real Estate in Polk County Florida?
If you are interested in buying or selling a home in Polk County, Florida, then contact the area's best Realtor's at DRJ Real Estate! With over 20 years of experience in the area our team is ready to help in ANY kind of Florida housing market. CONTACT US today for a FREE market analysis of the area.
If you are looking to move into the beautiful Polk County Florida area, or you are looking to sell your house, then CONTACT DRJ REAL ESTATE right now to put us to work for you! We are Polk County's premier, full service real estate team that specializes in Polk County and Lakeland real estate. 
We are a proud affiliate of Homes for Heroes.
Are you a Hero?? Ask us how we can help save you thousands of dollars as a Buyer or Seller! Collect Your Hero Reward if you are a Firefighter, LEO, Medical Professional, Teacher, Military or Veteran, or Clergy! 
**Like and Follow us on Facebook to keep up to date with new listings and real estate tips**
Florida Housing Market Trends | Best Lakeland Realtor

real estate trends – realtor – listing agent Florida- real estate market – housing market – interest rates – sellers market – buyers market – real estate value- property values – real estate prices- housing prices- home prices- equity- cash value- DRJ Real Estate