Home Selling Tips | Best Listing Agent Polk County
Selling Your Home is About More Than Just List Price and Curb Appeal! Here are Some Top Listing Agent Tips to Help You Sell Your Home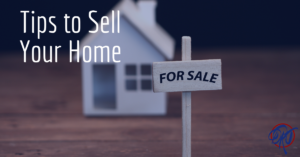 If you are looking to sell your home in Polk County, Florida, then there are a few steps you should be taking to help maximize your return. Even on the tail end of a hot "seller's market", DRJ Real Estate always believes in helping our clients present their homes in the best possible way. We know that a successful closing starts by checking off the "big boxes", but often comes down to the little details. Here are a few of our Top Listing Agent Tips to help you sell your home fast, and for top dollar.
Did You Check the Big Boxes First?
When we reference the "big boxes", what we are talking about are the major, fundamental steps that need to be done as a seller. These are just the beginning steps for creating a successful listing. However, if they are not done with care and attention, it can end up costing the seller time and/or money. The two initial steps to check are:
HAVE YOUR LISTING AGENT PRESENT YOU WITH A COMPARTIVE MARKET ANALYSIS

HAVE YOUR LISTING AGENT PREPARE AN EQUITY SHEET
This starts with doing a comparative market analysis, or CMA. A CMA is the primary tool that a listing agent will use in order to determine the best list price for your home. A CMA analyzes recent closings in the area. It looks at the listing price, and the sale price of comparable homes. From there, your listing agent should be able to determine the best listing price for you. This should include some adjustments based on unique features of your home, as well as adjustments for the current market climate.
A CMA should then be followed up with an equity sheet. An equity sheet will breakdown all the estimated closing costs along with your current mortgage pay off, and subtract those values from the suggested list price. The resulting number is an estimate of your "cash out" or walk away value. Meaning, once everything is paid off, how much money will you get from selling your house. The equity sheet is a really important step that can often times be overlooked by hasty Realtors. However, DRJ Real Estate believes that it is really important to be completely transparent and upfront with our clients so that there are no surprises or disappointments. Seeing the equity sheet may change how much you, as the seller, is wanting to list for. Additionally, it may change how much you are willing to come down in price if needed.
These two steps are critical for determining how much we need to list, and ultimately sell the house for. In fact, many Realtors actually underestimate how valuable the list price is in regards to the overall listing strategy!
Best Listing Agent Selling Tip #1
INVEST IN CURB APPEAL AND KITCHEN
Curb appeal isn't everything, but it is a very valuable component of preparing a listing. First impressions are important. Especially in today's market, where much real estate previewing can occur online with sites like Zillow and Redfin. Buyer's can quickly scroll through hundreds of listings based on price range and specific features they want. However, do you know which house they are going to click on for more information? The one that looks GREAT in the listing photo.
This initial image is typically of the front profile of the home, taken from the curb. Hence the name "curb appeal". If you have a little money to invest into your home to help it sell quicker, or for more money, then the front of the house should be the first priority. Many studies estimate that you can often get 100% return on your investment, if not more, when you upgrade your curb appeal.
Improving curb appeal can be done easily and without a lot of money. For example:
do some simple landscaping and clean up
touch up of worn trim
wash the windows
clean the gutters
remove cobwebs
create a welcoming entry way
One of the best investments you can make to improve curb appeal is actually to paint your door! According to a report by Zillow, "homes with a charcoal, smoky black, or jet black colored front door sold for a $6,271 premium!"
Do You Know What Color Bathroom Can Lead to a $5,000 Higher Offer?
Another great investment is in upgrading the kitchen. Many estimates put a potential return on investment around 85% for kitchen upgrades. However, that does not take into effect the potential loss of trying to list your home with an outdated kitchen. A report by HGTV estimates that a dated kitchen can reduce offer prices by up to $10,000! Simple and affordable ways to upgrade your kitchen include fresh paint (stick to white or light tones), a new backsplash, or a new faucet fixture. Larger upgrades may include refurbishing cabinets and replacing counter tops.
Best Listing Agent Selling Tip #2
DE-CLUTTER AND STAGE YOUR HOME
If you are still living in your home while it is listed, then it is critical you take some simple steps to make it more presentable. The best thing you can do is eliminate clutter, and de-personalize. Here is a simple rule of thumb: look around in each room and try to remove about HALF of everything. For example, if you have a book shelf, pack up about half the books and reorganize the book shelf. Remove about half the pictures you have hanging on the walls, focusing on removing those beautiful family photos (potential buyers want to buy a home that they can picture themselves living in, not someone else). Clear off your kitchen counters and coffee tables. Clear off your bedroom dressers. Even clear out about half of your closet.
People are always surprised at home much stuff they actually accumulate over the years, and you will be pleasantly surprised by how much this can impact how your home looks to potential buyers. It will be much cleaner and more organized, simply by getting rid of stuff that doesn't need to be there.
Best Listing Agent Selling Tip #3
PROFESSIONALLY CLEAN YOUR HOME
Now that your home has been properly de-cluttered and cleared out a little, spend the money to have a professional cleaning company perform a deep clean. On average this will probably cost around $300. Make sure that the cleaning service is paying attention to details such as baseboards, window sills, and appliances. Consider having the carpets professionally cleaned as well, depending on how they look.
The last little secret tip to help you sell your home is to make it smell good. Smell is subjective, yes. Meaning, not everyone thinks the same things smell nice. In fact, what one person may find to be a nice smell may actually be offensive to someone else. However, there are some fairly safe choices here. Some of the best scents include:
citrus
vanilla
clean linen
You can use plug-ins, diffusers, or candles throughout the house to provide a welcoming and fresh aroma. One of our favorite scents is one that mimics fresh baked cookies. Yum!
Want Help Selling Your Home in Polk County? CALL DRJ REAL ESTATE TODAY!
If you are wondering if now is a good time to sell your home in Polk County, Florida, then CALL DRJ REAL ESTATE today for a FREE 30 minute consult. We will go over a quick market analysis with you and answer any questions you have about the market and process for selling your home.
We also offer online seller's and buyer's courses to help you learn all the best home selling tips and buyer's secrets. CHECK THEM OUT!!
If you are looking to move into the beautiful Polk County Florida area, or you are looking to sell your house, then CONTACT DRJ REAL ESTATE right now to put us to work for you! We are Polk County's premier, full service real estate team that specializes in Polk County and Lakeland real estate. 
We are a proud affiliate of Homes for Heroes.
Are you a Hero?? Ask us how we can help save you thousands of dollars as a Buyer or Seller! Collect Your Hero Reward if you are a Firefighter, LEO, Medical Professional, Teacher, Military or Veteran, or Clergy! 
**Like and Follow us on Facebook to keep up to date with new listings and real estate tips**
Home Selling Tips | Best Listing Agent Polk County