Home Buying Program | Homes for Heroes Florida
Teachers, Medical Professionals, Firefighters, Military, and Law Enforcement Qualify for Special Home Buying Program
Homes for Heroes is a national program that provides discounts and rewards when Heroes either buy, sell, or refinance a home. To qualify is simple: you just must work in one of the "Hero" industries:
Education
Medical Professionals

Doctors
Nurses
First Responders
Paramedics

Fire Protection
Military
Law Enforcement
The Homes for Heroes program is designed to give back to our National Heroes with no catch, no fine print, and no hoops to jump through. This is provided through a "Hero Reward", and is a combination of discounts on real estate services as well as cash back at closing (when you buy). This is all done with no additional costs or obligations to the Hero. You Heroes have already earned your Hero Reward, you just need to collect it now!
Homes for Heroes Pays it Forward
Another amazing benefit of Homes for Heroes is that every Hero Reward is already designed to "pay-it-forward" to other Heroes. That means that just by collecting your Hero Reward benefit, you are also supporting other heroes! How is this possible? It is through what Homes for Heroes calls the "Circle of Giving".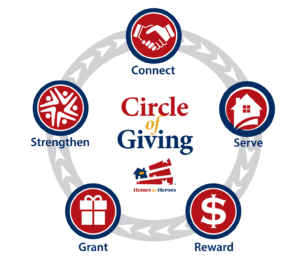 This is all made possible by the amazing businesses that partner with Homes for Heroes to support our Heroes. Each business not only provides discounted services to a Hero, but also donates a portion of their sales back to Homes for Heroes.
When you use your Hero Reward, not only are you receiving well earned discounts and services to help you buy, sell, or refinance a home, but you are also supporting businesses that care about giving back to their communities!
Use a Homes for Heroes Affiliate
To make sure you receive your Hero Reward, it is important to make sure you are working with a Homes for Heroes affiliate. DRJ Real Estate is the official Homes for Heroes affiliate for the Polk County, Florida area. This means not only will DRJ discount their commission for a Hero, but will donate a proceed of their commission back to Homes for Heroes to support other Heroes. As an official Homes for Heroes affiliate, DRJ Real Estate will also make sure to connect you with other services that support Homes for Heroes. This can include things like mortgage and lending services, as well as home appraisal services, and more.
The average Hero Reward is $2,400!!
Contact DRJ Real Estate Today for Your Hero Reward
If you are in the Polk County area and are wondering if you qualify for a Hero Reward, then contact DRJ Real Estate today! Our team will walk you through the simple application process and then help you maximize your Hero Reward while we help you buy, sell, or refinance a home.
If you are looking to move into the beautiful Polk County Florida area, or you are looking to sell your house, then CONTACT DRJ REAL ESTATE right now to put us to work for you! We are Polk County's premier, full service real estate team that specializes in Polk County and Lakeland real estate. 
We are a proud affiliate of Homes for Heroes.
Are you a Hero?? Ask us how we can help save you thousands of dollars as a Buyer or Seller! Collect Your Hero Reward if you are a Firefighter, LEO, Medical Professional, Teacher, Military or Veteran, or Clergy! 
**Like and Follow us on Facebook to keep up to date with new listings and real estate tips**
Home Buying Program | Homes for Heroes Florida