Real Estate Discount Program | DRJ Real Estate
Nurses and Healthcare Providers Receive Huge Discounts from Homes for Heroes
Have you ever dreamed of owning your own home, but felt like it was simply out of reach? Nurses and healthcare providers everywhere now have the opportunity to benefit from a nationwide real estate discount program that provides amazing savings when buying or selling a home.
Homes for Heroes is an organization dedicated to providing unique savings opportunities exclusively for our Heroes and medical professionals — nurses, doctors, EMS professionals, and more. With this fantastic program, you can save thousands on selling or purchasing a home. If you're ready to stop dreaming about homeownership and finally make it a reality, read on and find out how Homes For Heroes can help!
Introducing the Homes for Heroes Program – What It Is and Who Qualifies
Are you looking to buy or sell a home? If you're a nurse or other healthcare provider, now is the perfect time to make that dream a reality! Through the Homes for Heroes program, nurses are eligible for discounted real estate services, including discounted appraisals and cash back at closing. Homes for Heroes, Inc. is the largest nationwide network of affiliate real estate, mortgage, and local business specialists; committed to providing easy ways for heroes to save on a home. Shortly after 9/11, Homes for Heroes, Inc. was established to give back to firefighters, EMS, law enforcement, military (active, reserves & veterans), healthcare professionals and teachers for all they do.
With this national real estate program, buying or selling a home has never been easier or more affordable. That means more money in your pocket and financial security for you and your family. Your future starts now – enquire today about Homes for Heroes and collect the Hero Reward that you deserve.
Why Nurses and Healthcare Providers Should Consider Applying
Nurses and other healthcare providers, including doctors and first responders, can now qualify for the Homes for Heroes real estate discount program. Buying or selling a home with Homes for Heroes not only saves you money on the services you will already need, but you will also be connected to an entire team of providers who appreciate all that you do. All Homes for Heroes affiliates are dedicated to supporting our heroes, like you-by providing individualized attention as well as discounts on services. Most importantly, all Homes for Heroes affiliates give back by also donating a portion of their commission to the Homes for Heroes Foundation!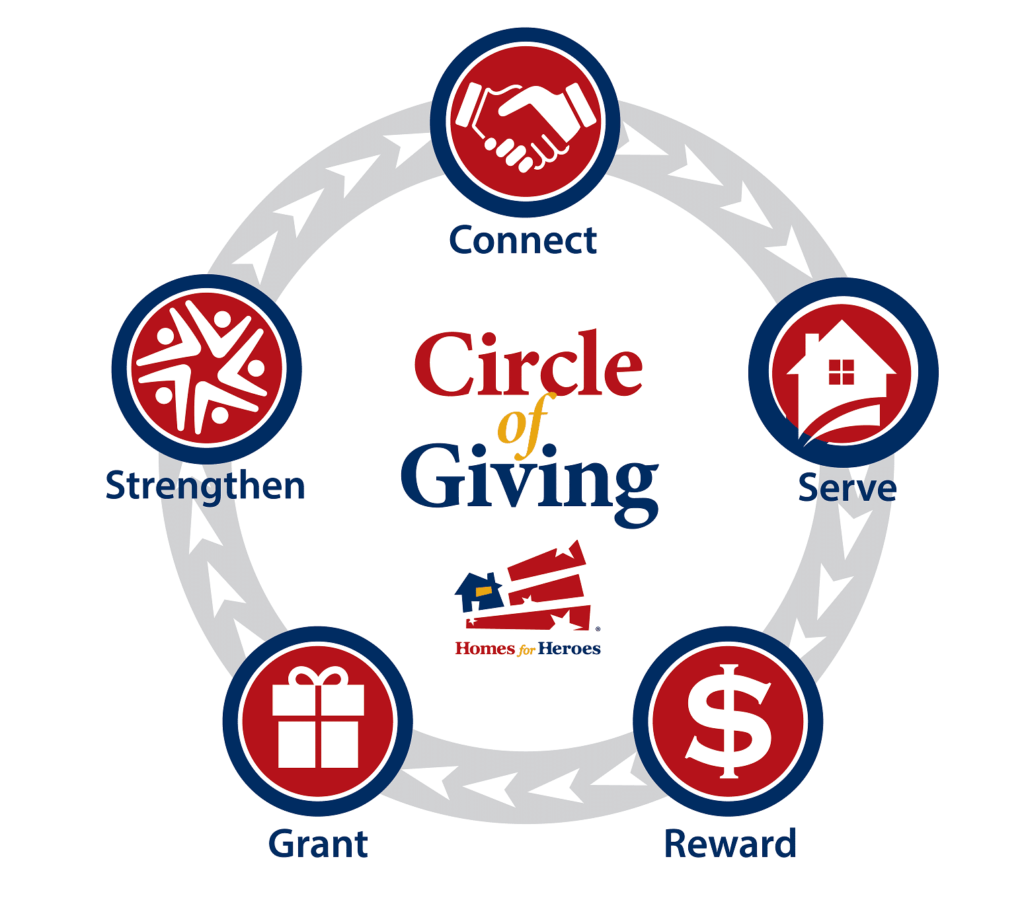 That means that by participating in the program, not only will you receive your Hero Reward, but you will also be supporting other Heroes with their real estate needs! It is the ultimate way to pay it forward! If you are looking to buy or sell a home, why wouldn't you take advantage of this program?! This is the best real estate discount program available for Heroes like you!
Benefits of Buying a Home With Homes for Heroes
Your Hero Reward comes from discounts through participating lenders, Realtors, title companies, and others involved in the home buying or selling process. As an official Homes for Heroes Affiliate, DRJ Real Estate will help you through the entire process. That means that not only are our services discounted for you, but we will help you connect with other participating providers to make sure you get the most from your Hero Reward. Homes for Heroes GUARANTEES you the most hero savings among all national programs!
The average Hero Reward is worth over $2,000 in savings! Best of all, your Hero Reward scales to the amount you are spending. For example, when buying a home, you will receive a discount of $700 for every $100,000 that you spend! That is in addition to discounts on various services, such as appraisals, inspections, and closing costs. Why wouldn't you take advantage of this?? Let DRJ Real Estate make it easy and painless by helping you find the ideal property and arranging discounted services – capped off with CASH BACK at closing!
Don't miss out on this truly special opportunity. You deserve it-and it is our way of saying "Thank You!" for all that you do for your community.
How to Get Started – Step-by-Step Guide for Applying for the Program
Getting started is so easy! Simply fill out the Homes for Heroes contact form RIGHT HERE. It literally takes less than 2 minutes! Someone from DRJ Real Estate will then get in touch with you to start the process.
Fill out the Homes for Heroes CONTACT FORM
Someone from DRJ Real Estate will reach out…
Discuss and learn about your real estate goals and needs
Help you finalize Homes for Heroes verification
Connect you with other affiliate services
Maximize your Hero Reward!
Congratulations nurses and healthcare providers! You have the proud privilege of taking advantage of the amazing real estate discount program from Homes for Heroes. The benefits of this program are countless and its potential to spare you thousands in home purchase costs should not be overlooked. All just for doing what you already do! You can rest assured DRJ Real Estate understands how important it is for you to easily experience the premier advantages associated with this incredible home buying program.
NO red tape. NO hidden fees. NO catch.-Homes for Heroes
Knowing how committed we are when it comes to helping you save money when buying or selling a home, your Hero Reward awaits with our topnotch real estate service! Call today and let us show you why our commitment to community and excellence is far superior compared to others in the business. So reach out now, make an appointment today, pick up the phone and dial DRJ Real Estate so that we can help you save money with this real estate discount program! Let DRJ Real Estate help you receive your maximum Hero Reward – CALL TODAY!
To qualify for Homes for Heroes, just fill out the simple form RIGHT HERE. A DRJ Real Estate professional will also reach out to help you get started and go over your real estate needs. Homes for Heroes provides discounts when you buy, sell, or refinance a home.
We also offer online seller's and buyer's courses to help you learn all the best home selling tips and buyer's secrets. CHECK THEM OUT!!
If you are looking to move into the beautiful Polk County Florida area, or you are looking to sell your house, then CONTACT DRJ REAL ESTATE right now to put us to work for you! We are Polk County's premier, full service real estate team that specializes in Polk County and Lakeland real estate. 
We are a proud affiliate of Homes for Heroes.
Are you a Hero?? Ask us how we can help save you thousands of dollars as a Buyer or Seller! Collect Your Hero Reward if you are a Firefighter, LEO, Medical Professional, Teacher, Military or Veteran, or Clergy! 
**Like and Follow us on Facebook to keep up to date with new listings and real estate tips**
Real Estate Discount Program | DRJ Real Estate