Healthcare Home Buying Program | Homes for Heroes Polk County
Nurses, Doctors, Paramedics, and All Health Care Workers Can Qualify for Special Home Buying Program
Health care workers have always been a special part of the community. However, during the COVID pandemic, health care workers have been on the frontlines more than ever. Truly, our health care workers are real Heroes. If you are a health care worker, such as a nurse, doctor, PA, CNA, or paramedic you can qualify for your Hero Reward from Homes for Heroes, which will give you cash back and discounts on your home purchase!
How Do I Get My Hero Reward?
There is a simple application process online to verify that you are a health care worker. The best way to make sure you receive your Hero Reward is to work with a Homes for Heroes affiliate, like DRJ Real Estate. Our team here at DRJ Real Estate will help you through the process to get approved for your benefit.
The great thing is, there is NO catch, NO red tape, and NO fine print. If you work in health care, then you have already earned your Hero Reward, now you just need to collect it! The average Reward is worth over $2,500 in cash and discounts when you buy a home. There are no hidden fees either. Just our way of giving back to those that have given so much.
Special Home Buying Program
Your Homes for Heroes reward is designed to help health care heroes when they buy a home. This special program is really easy to use, and does not limit you. Your reward amount is based on the purchase price, as well as the various services you use. For example, you automatically save $700 on every $100,000 you spend, PLUS you get discounts when you use Homes for Heroes affiliates for your loan, inspections, and title. The average Hero Reward is $2,500 which you can receive in cash after closing, or you can apply directly towards your closing costs!
It is basically free money, why wouldn't you take it??
Homes for Heroes Affiliates
One of the great things about the Homes for Heroes program is that when you participate in it, you are actually helping give back to other heroes. Homes for Heroes affiliates donate a portion of their commission from your purchase back to Homes for Heroes to help keep the Circle of Giving going! You should feel good knowing that your Hero Reward is actually helping other heroes too.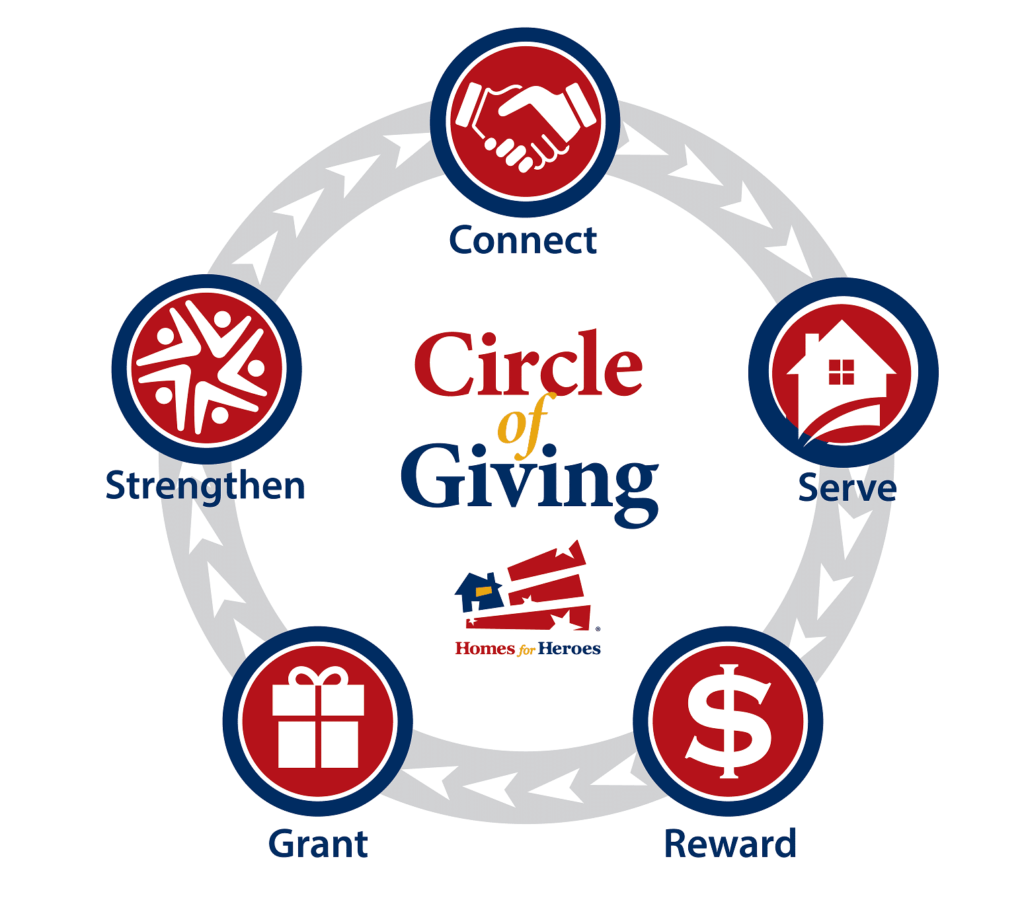 Is Homes for Heroes Just for Buying a Home?
NO! You can also use Homes for Heroes when you sell your home or even when you refinance! Homes for Heroes is the Nation's best real estate program for health care workers.
What Other Heroes Can Qualify for Hero Rewards?
Homes for Heroes is not just for health care workers. In fact, firefighters, law enforcement officers, active and retired military, and teachers can all qualify for the Homes for Heroes program! DRJ Real Estate can help all Polk County Heroes receive their Hero Reward!
If you are looking to move into the beautiful Polk County Florida area, or you are looking to sell your house, then CONTACT DRJ REAL ESTATE right now to put us to work for you! We are Polk County's premier, full service real estate team that specializes in Polk County and Lakeland real estate. 
We are a proud affiliate of Homes for Heroes.
Are you a Hero?? Ask us how we can help save you thousands of dollars as a Buyer or Seller! Collect Your Hero Reward if you are a Firefighter, LEO, Medical Professional, Teacher, Military or Veteran, or Clergy! 
**Like and Follow us on Facebook to keep up to date with new listings and real estate tips**

Healthcare Home Buying Program | Homes for Heroes Polk County